The panel everyone has been waiting for has started at San Diego Comic Con and stay tuned here for LIVE UPDATES as they happen.
UPDATES
6:42pm MAHERSHALA ALI is BLADE ! ! !
6:28pm may 2020 is BLACK WIDOW. Scarlett is excited for fans to discover if she played this character 10 years  ago it would be very different, she gets to play Natasha a full grown woman, and but she flawed.
Florence Pugh will be playing Iliana, a sister figure to Natasha. O.T. Fagbenle's character is a contact from Natasha's past and the character also has feelings for the assassin.
They are 30 days into shooting and the crown is treated to some footage it is not finished footage however. It starts out with past footage with the monologue from AVENGERS ENDGAME and Budapest is mentioned. She sneaks in a room with a gun drawn then comes face to face with Florence Pugh and they draw upon each other. There is an INCREDIBLE kitchen fight scene. Natasha says that she wants to wipe out the red in her ledger and it is official the TASKMASTER will be in the film.  The footage includes another incredible fighting scene on a bridge.
6:20pm November 2021 is up next
Taika Waiti is on stage with Chris Hemsworth and Tessa Thompson
Taika is pulling from the MIGHTY thor, full of love and thunder, and introduces female thor. NATALIE PORTMAN is Back
6:17pm Jeremy Renner has entered through the audience.
We get an animated intro video with a silhouette of Kate Bishop.
Renner says what's exciting is he gets Shepard's an amazing character to be a better version of him. The fiber of what Hawkeye is a superhero with out powers. And that's an amazing sentiment to share with people, cause that means we are all heroes. We also get more Ronin in the series.
6:11pm The summer 2021 slate is up and its something Marvel has never done,. a video opens with stone names, alternate worlds and even WHAT IF
JEFFREY WRIGHT is THE WATCHER. Wright ssays He says the watcher is a non earthly being that observes all things and watches over the multiverse, and occasionally intervenes with earthlings and even mentions the FANTASTIC FOUR. Because that is where the character first appeared. He seems to be the narrator of the show.
6:06pm DOCTOR STRANGE TWO -DOCTOR STRANGE IN THE MULTIVERSE OF MADNESS
Director Scott Derrickson is on stage and says he  is excited because Strange doesn't fight villains from earth or universe but villains from multiverse. Not a sequel just for a sequel, but he wants to do what drew him in, and make the first scary MCU film.
The crowd is singing Happy Birthday to Benedict Cumberbatch will be linked to WANDAVISION
6:02pm LOKI
The story is based around Loki stealing the Tesseract in AVENGERS ENDGAME. A clip was shown of Loki when he stole the tesseract in AVENGERS ENDGAME. The series will tell us where he went and the first place was HALL H.
Hiddleston says that this is not the character that grown and changed. This is the Loki of avengers. Last thing that happened to him was hulk smashed. Most creative role hes had with new territory and new challenges.
5:56pm WANDAVISION
Paul Bettany and Elizabeth Olson are here.
Olsen says "We are gonna have a lot of fun, it'll be weird, gonna have surprises, and understand Wanda as the Scarlett witch"
Paul Bettany says he has no idea what's going on with vision, since hes dead. All he can say, is everytime he gets to do this stories get richer and richer, and he Hope's tough love it.
TEYONNA PARRIS is your adult Monica Rambeau. WANDAVISION will arrive May 2021
5:49pm SHANG-CHI AND THE LEGEND OF THE TEN RINGS. Feb 21, 2021 all hail the REAL MANDARIN. Awkwafina is in the film.
Director Destin Daniel Cretton is on stage.TONY LEUNG is your Mandarin.
ladies and gentlemen we have our Shang Chi in Simu Liu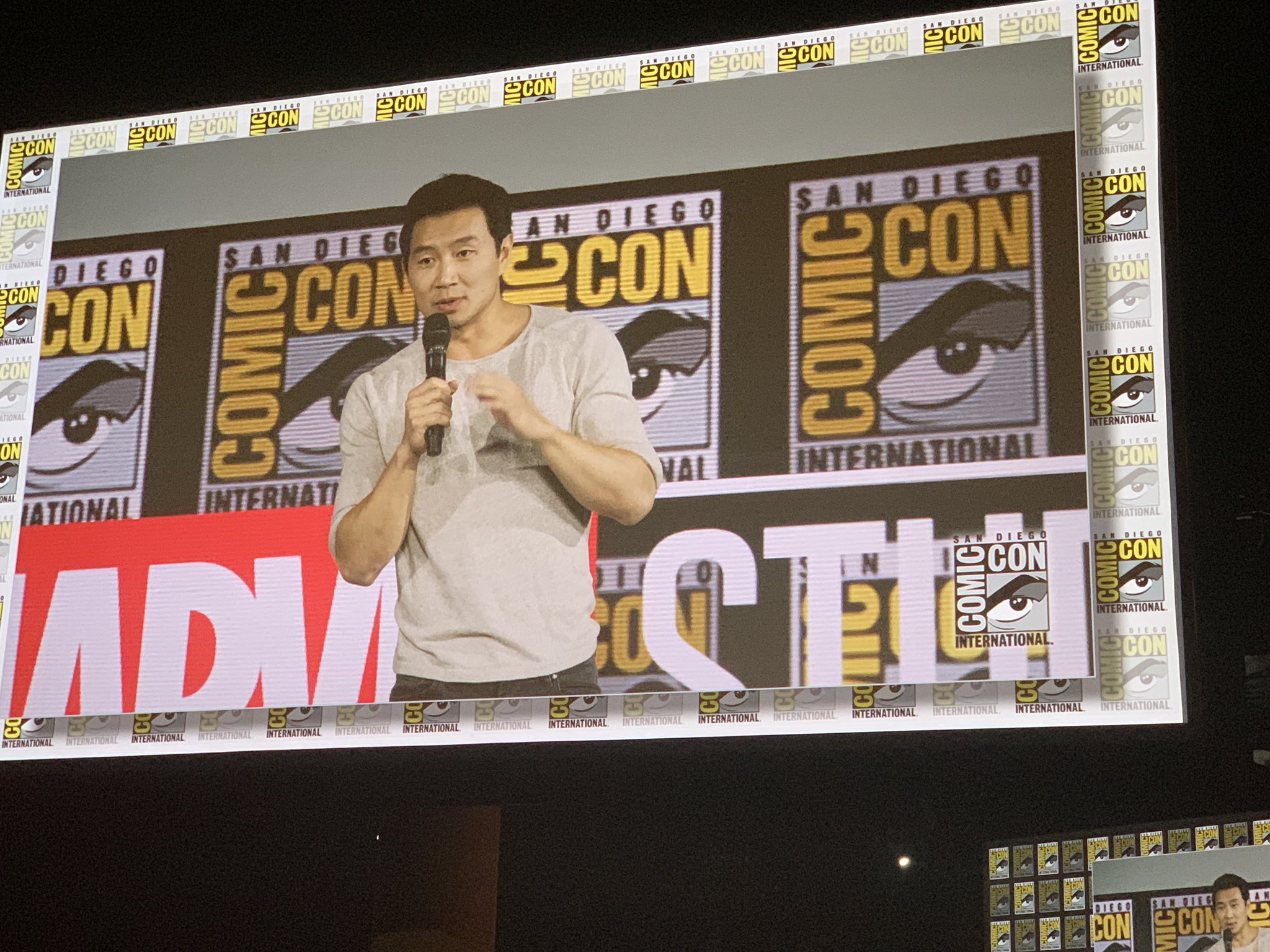 5:44pm DISNEY PLUS our first official logo for THE FALCON AND THE WINTER SOLDIER
Anthony Mackie and Sebastian Stan are now on stage joking over the shield showing GREAT CHEMISTRY
Sebastian Stan says that Bucky is very excited to explore what kind of man the Falcon is. Mackie says that Falcon wants to see what makes Bucky tick and how much ticking makes his clock go boom.
The duo joke that they hate each other and have fun on set. Mackie says that they are living their dream and have a job anyone would kill for.
We find out the BARON ZEMO is the villain of the series. It will arrive on Disney Plus February 2021.
5:34pm The cast of THE ETERNALS are Introduced Richard Madden- ICARUS, KUMAIL NANJIANI, BRYAN TYREE HENRY, SALMA HAYEK, LIA MCHUGH, & ANGELINA JOLIE-THENA
Lauren Ridoff is the FIRST DEAF HERO in the Marvel Cinematic Universe.
Salma Hayek, says it is great to be a strong female hero, and she takes her inspiration from their director Chloe. The way she approaches leadership as a strong woman, she sees them as a family. There is a strong maternal instinct. She is happy to part of a ml movie to see people who have never been represented, be represented.
Angelina Jolie says she is excited to be here, and shes working 10x harder because of what it means to be a part of the mcu and an eternal.
Don is very excited and loves this project, and cant wait to show us his power. He says Gilgamesh would beat hulk in a fight
The Eternals exit the stage.
5;33pm THE ETERNALS will be released Nov 6, 2020. Director Chole Zhao is on stage. 
5:30pm PT Presidents and CEO's of Marvel and Disney are brought on stage by Kevin Feige who is the moderator
Feige talks about how they are about to break Avatars's record and acknowledges James Cameron
5:27pm PT
Starts with a highlight package of the Marvel Cinematic Universe footage even inculdes THE INCREDIBLE HULK film which is owned by Universal.